If you are like most people, you may often worry the shoes won't be up to your expectations when buying online. Unless you try them out before in a store. With Ryka, it's different because they've built such a good reputation in almost every category.
Of course, not everyone will like them, which is normal. After all, we all have different tastes. But it doesn't matter what Ryka's model I review; this brand always receives the highest rating, whether on Amazon or Zappos.
And this means customers appreciate them very much. But what about you, will you like them, too? In this RYKA Women's Dash 3 review, you'll find out if these are what you are looking for.
This page contains affiliate links. As an Amazon Associate, I get commissions for qualifying purchases made through links in this post.
RYKA Women's Dash 3 Review Specs
---
Overview
The Ryka Dash 3 is an update of its predecessor " Dash 2″. The new model has the same low cut profile, but the upper is different this time. The mesh' holes are smaller, and the leather overlays are accentuated with a chic gradient screen print, which adds a nice touch to the shoes.
The Dash 3 still uses the same Anatomical Precise-Return™ footbed. Apart from that, it has been anatomically molded to form your foot's contour, which is a plus. Both models have a solid rubber outsole, but the bottom's edge on the Dash 3 has been rounded to provide a smoother ride.
---
Who Is the Ryka Women's Dash 3 For?
The Ryka Dash 3 is for anyone who looks for stylish and comfortable shoes for walking long distances. They offer exceptional comfort, support, and are lightweight. Be aware that these are neutral shoes; therefore, suit people with normal pronation or high arches or supination (foot roll outward). According to many reviewers, the Ryka Dash 3 releases foot and knee pain, which is why people keep buying them over and over again.
---
Upper
The Ryka Dash 3 has a breathable mesh upper with small holes, which prevent debris from getting insides yet allowing excellent airflow. Additionally, leather overlays are sewn on the sides, front, and back of the shoes, which wraps the foot and prevents it from rotating. Most users loved how the Dash 3 kept their feet cool during their workout. However, a few wearers reported that they could feel the cold air passing through the mesh upper. Others that the stitching seemed a little rough and worried it was going to fall apart.
---
Midsole
The midsole of the Ryka Dash3 is made of EVA ( ethylene vinyl acetate), a cushioned foam that resists UV, water, cracks, and low temperature. This EVA foam is not only lightweight and flexible, but it also helps distribute your weight evenly and cushion your feet with every step. According to some reviews, the midsole is stiff.
For some of them, it was perfect because they preferred a firm base. But others expected a softer sole and were a little disappointed. They didn't give up on the Ryka, though, and placed a thin sole insert in them, which added comfort. A user stated that after 8 miles of walking, her feet weren't' hurting, which allowed her to walk more.
---
Insole
The Anatomical Precise-Return footbed is molded to follow the curves of the foot and acts as cushioning. Many purchasers found the insert comfortable, but a few had to replace it with a custom insert because they needed more support for their pronation.
A lady who works in daycare stated that the shoes were super comfortable. But after placing her inserts, she got completely hooked. Some users with plantar fasciitis said the shoes don't even need inserts and are comfortable right out of the box.
Although the Dash 3 is advertised as a neutral shoe, many users reported the arch support is relatively high. However, most critics were pleased with the foam because it made walking easier on their feet.
---
Design
The Ryka Dash 3 is designed for women's feet. The forefoot gives the toe ample room to wiggle, and the heel is snug on the ankle. They have a lovely feminine silhouette, and the trendy gradient screen print gives a refreshing burst of color.
The Ryka's logo is placed at the rear, on the padded tongue, and the shoes' outer side. Most ladies loved the look of the Dash 3, but some were disappointed because of the lack of color choices. Ryka will maybe take these reviews into account and create more colors in the future.
---
Outsole & Traction
The Ryka Dash 3 has a full rubber outsole that is flexible at the forefoot to provide maximum flexion under the foot's ball. Ryka rounded the edge of the outsole to provide a comfortable and smoother ride.
The lugs are shallow and are closely spaced, which gives excellent tread on dry surfaces but can get a little slippery on wet floors. Based on most buyers, they grip exceptionally well. However, one reviewer found the Dash 3 a bit slippery on her treadmill but felt secured when wearing them outside.
---
Durability
For the price, they are well built. Of course, you can't expect a shoe at such an affordable price to last for years. Yes, the Dash 3 are well constructed, but like most athletic shoes out there, they need to be replaced every 500 to 600 miles if worn often.
Some walking shoes are more costly and have a shorter lifespan, but provide extreme comfort and protection during the ride, and this is what they are built for.
While many purchasers were pleased with the price and the shoes' longevity, several wearers affirmed that the stitching on the upper fell apart after a few wears. A tester said the sole under the forefoot worn out after only one season of use but ordered another pair anyway because they fitted well on her feet.
---
Breathability
Despite the upper being structured with leather overlays, the Dash 3 breaths well and helps cool the feet. A buyer that walks a lot in her workplace stated that her feet don't get hot and stay cool all day. Something to keep in mind is that the Dash 3 are lightweight and well-ventilated shoes, making them excellent for spring, fall or summer, but don't count on them to keep your feet warm in the winter unless you wear thick warm socks.
---
Terrain Types
The Anatomical Precise-Return footbed and the EVA midsole are well cushioned, this enhanced comfort. Plus, they have an extra cushion under the heel, which protects the heel from shock and gives extra comfort. Many people with plantar fasciitis swear by them because they reduced their heel pain.
A few reviewers found them uncomfortable for long walks outside. A lady who works in retail on concrete floors for 10-12 hours shifts reported that the Dash 3 offered her feet more support than many other shoes out there.
Although it took her some time to get used to the insole, she had significantly less foot pain in the Dash 3. The Dash 3 is cushioned and provides adequate support and comfort for walking or standing on concrete, asphalt, tile floors, wood, grass, and pebbles. However, these are not the shoes to wear on hiking trails, as they are not built for these terrains.
---
Sizing
Ryka is well known for creating shoes that fit exceptionally well the contours of women's feet. Thus, The Dash 3 is available in women's sizes only. It comes in two width options, D – Wide and B – Medium. According to many reviewers, the Dash 3 runs shorter and smaller than usual. So you may want to go a half size up to get the right fit. And if you use custom orthotics or have bunions, it would best to go a full size up.
.
---
Comfort & Stability
If you pick the right size, they are super comfortable. The EVA midsole and anatomical precise-return footbed cushion and support your feet when walking on concrete. Many customers are so pleased with the quality of comfort they get from the Dash 3.
The heel's extra cushion has helped relieve the pain of a good number of buyers who suffer from plantar fasciitis and heel spur. The heel cup is deep, and the arch is relatively high, which helps stabilize your foot and reduce pain.
A walker reported that the Dash 3 makes her want to walk further than she would in other shoes, and aside from her costly flip flops, these are her favorite shoes. Apart from a very few who found them a little too stiff for their liking, most people loved the comfort the Dash 3 offers.
---
Lacing
The Dash 3 features a lace-up closure that secures the feet and stays tied when in the move. The laces are round and pass through leather eyelets, and there is a small loop on the tongue to hold it in place. The two holes at the top allow you to get a better fit if you need the shoes to be tighter. The tongue is padded, which creates comfort on the top of the foot. Users were happy with the laces' design.
---
Heel Area
If you need an extra cushion in the heel, the Dash 3 will give you just that. Despite being soft in the heel, the shoe is stable and makes walking comfortable. The heel drop is not advertised on this shoe. But the anatomic insole provides extra arch and heel support.
And as I said earlier, the heel cup is deep, which stabilizes your foot, aligns your legs, and prevents knees, hips, and back pain. Users felt secured when walking in the Dash 3. The narrow heel and wide forefoot offer an excellent fit.
---
Weight
Users really loved how light the Dash 3 are because they allowed them to walk long distances without causing any foot fatigue. One shoe weighs only 9 oz (255 gr), which is great for power walking or treadmills.
---
Flexibility
Based on most reviewers, the Dash 3 is flexible. The rubber outsole and the mesh upper is flexible. Plus, they are constructed with an injection-molded EVA midsole, which is more flexible than a compress EVA midsole. Many buyers felt great right out of the box and didn't even need to break them in. But for several reviewers, it took a little time to break them in. However, all in all, they provide adequate flexibility and give easily.
---
Toe Box
The toe box is spacious and accommodates wide feet, but because they run smaller and shorter, many users had to go a half size up to get the right fit. If you have narrow feet, you might need to stick with your standard size. But if you have a bunion, use orthotics, or have wide feet, you will need a bigger size and width. The piece of leather on the front of the shoes protects the toe against hazards.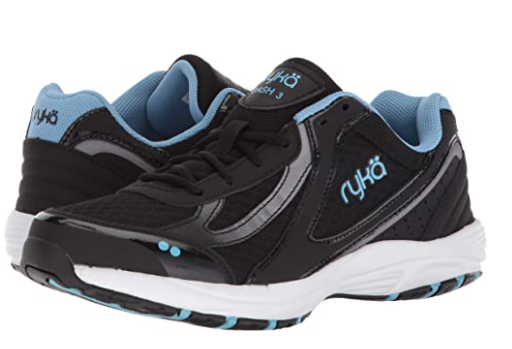 ---
Features

- Suit high arches and supinated feet.
- Neutral shoes
- Weight based on a single shoe: 9 oz (255 gr)
- Breathable mesh upper with supportive leather overlays
- Molded EVA midsole 
- Full rubber outsole 
- Soft fabric lining
- Removable Anatomical Precise-Return™ footbed
- Great for: Travel, day to day activities, walking exercises, bartenders, nurses.
---
Pros
Nice looking

Comfortable

Deep heel cup and good arch support.

Lightweight

Alleviate knees, arthritis, fibromyalgia, and other foot conditions.
---
Cons
A good number of people stated that they run small and narrow.

A few wearers reported the stitching fell apart after a few uses.

Some customers said the arch is too high for their liking.
---
More Ryka Women's Shoes
---
Conclusion
Every walker should have a comfortable shoe for walking, and the Ryka provides comfort and the support your feet need for walking long distances. They can serve you for various activities such as travel, walking errands, treadmills, and at work. Nurses, bartenders, and pharmaceutics love them because they allow them to walk all day without getting foot pain. Not to mention, the price is attractive!
Do you wear the Ryka Dash 3? If so, I would love to know what is your experience with these walking shoes.
RYKA Women's Dash 3 Walking Shoes
$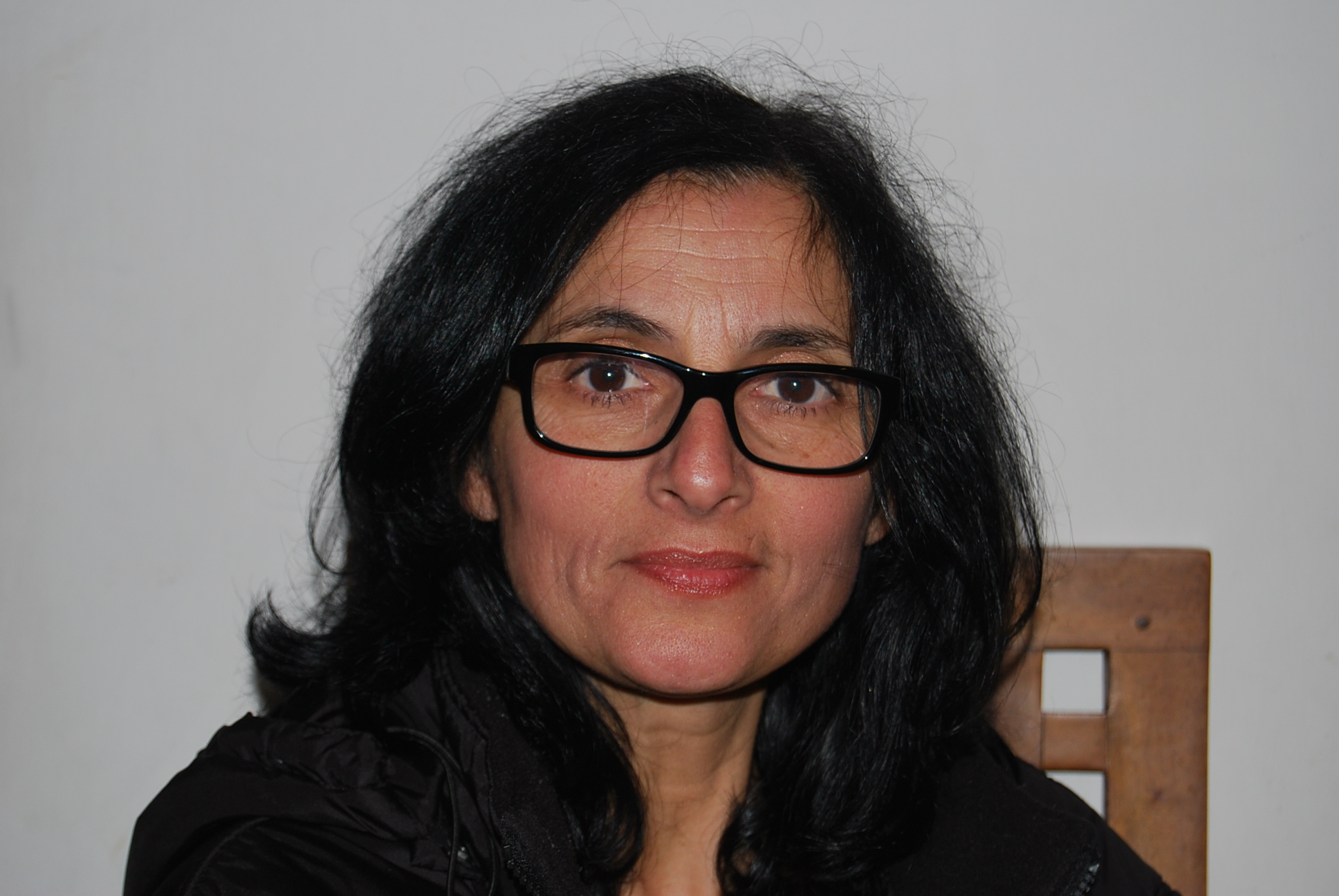 I don't know about you, but I love my feet because they allow me to walk and go wherever I want to go. Without them, I would be lost!  So I always spoil them with a good pair of walking shoes to make sure they are as comfortable as possible. If you take care of your feet, they will take care of you and your health. Well, fitted shoes will protect them and allow you to get more steps without pain!
Read more about me