Looking for a shoe that provides excellent cushioning and shock-absorbing capacities for your workout? If so, look no further. These trainers will hold your foot stable while you walk or train or dance, thanks to their pivot point and RZX technology features. They have an excellent heel cushion that promotes heel strike, and they are lightweight, making them perfect for power walking, cross-training, and any high impact workout. Although these won a good number of repetitive buyers, some were a little disappointed.
Let's see in this Ryka Women's Vida RZX review if these will meet your expectations.
---
This page contains affiliate links. As an Amazon Associate, I get commissions for qualifying purchases made through links in this post.
---
Ryka Women's Vida RZX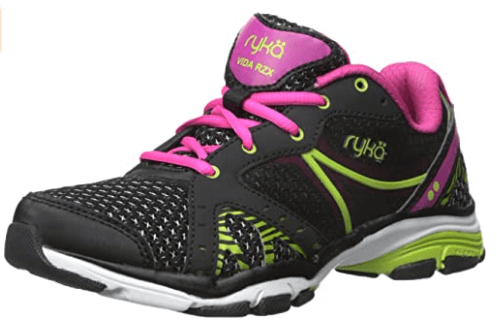 ---
Overview
The Ryka Vida RZX is designed for high impact exercises as well as for lateral movements. This means the Ryka Vida is excellent for volleyball, jazzercise, cross-training, to name a few. They are well padded where they need to be, around the ankle, at the tongue and heel, making them super comfortable. They have a breathable mesh upper with synthetic overlays on the sides to support your feet when exercising and excellent traction thanks to a rubber outsole with strategic flex grooves.
---
Who Is The Ryka Women's Vida RZX For?
The Ryka Vida RZX is for anyone who practices weightlifting, aerobic, jazz, Zumba, gym, walking, running, or jogging. Runners can use the Ryka Vida RZX, but for short races, because they are slightly less cushioned than running shoes. The Vida RZX is designed for neutral gait, but they have some stability features. So overpronators (foot roll inward)may also find this shoe particularly comfortable. Supinators (foot roll outward) will maybe find them a little too stiff. But not sure about it.
---
Upper
The Ryka Vida RZX uses a blend of thin textile/mesh on the upper that supports your feet and keeps them cool and dry. Plus, they have a smooth textile lining inside, which adds comfort. The synthetic overlays on the sides offer a snug fit, supporting your feet during your workout. They feature a piece of overlay synthetic on the forefront that protects your toe from getting hurt if you happen to hit your foot against a hard object. The collar and tongue are well padded, which prevents chafing and delivers additional comfort. However, a few reviewers said the tongue is a little too loose from the shoe area and had to set it right, so it doesn't create any discomfort.
---
Midsole
Ryka constructed these shoes using advanced shock-absorbing features like RZX technology and an Ultra-Flex forefoot. The RZX is a foam that delivers extra cushioning in the heel, absorbing shocks when your heel strikes the ground. With these, you won't need to wear any heel insert. You are all set. They provide excellent support at the arch, and the Ultra flex forefoot enhances flexibility at the foot's ball, allowing a natural movement of the foot. As I mentioned it, the Vida RZX has more cushion in the heel and a little less in the forefoot. Some users reported the shoes felt a little thinner in the front, which bothered them because they could feel the ground.
---
Insole
The Anatomical Precise-Return footbed molds to the foot's contours and protects from shocks when working out, minimizing stress on your joints. The insert is removable, which is a plus as it allows you to replace it with orthotics. Although some customers said they could wear the Ryka without orthotics, they wished the arch was a little larger in height. According to most reviewers, the insert provides excellent arch support. But some felt a lack of cushioning in the forefoot and had to use cushioned inserts.
---
Design
These are cute sparkly shoes, and they are not too showy. If you like this style, then you'll find them very attractive. So far, most users have found the colors lovely. Some of them said they received tons of compliments, which made them feel proud when wearing them. The Ryka logo is on the sides and tongue, and they come in three different colors. It's a shame that Ryka doesn't make them in more colors. Maybe in the future, who knows.
---
Outsole & Traction
The Ryka Vida RZX has a rubber outsole that provides optimal grip and traction. Not to mention, they feature a pivot point at the ball of the foot that allows you to do fast turns on wooden floors. And the best part? They don't leave any mark or make squeaking noises. These are excellent shoes for twists, turns, and lateral movements.
---
Durability
These are built for high impact workout, so they need to withstand jumps, twists, and lateral movements. But it's worth mentioning that athletic shoes don't last very long, and if you wear them every day, they will wear out faster. However, you can expect to get 4 to 6 months out of them and maybe a little longer if you maintain them well. A few reviewers reported that the sole came off after only several weeks of wear. The other users were happy with the quality of the shoes.
---
Breathability
These shoes have an upper mesh design, making them breathable. The synthetic overlays on the heel and sides of the shoes reduce a little the level of breathability in these areas but still do an excellent job. Apart from one user that said the shoes don't allow the feet to breathe, the majority loved how the Ryka Vida RZX kept their feet cool and dry during their workout.
---
Terrain Types
The Ryka Vida RZX can be worn on various terrains like wood, tile floors, concrete, pavement, asphalt without any traction issues. For some users, the cushioning might not be enough for high impact exercise, but so far, most reviewers found them supportive and comfortable, especially on wood and tile floors. These are cross-training shoes built with a flatter and wider sole, providing maximum stability on the ground. However, although they provide excellent stability and support, these won't do a good job on uneven terrains as the sole doesn't have the thickness and traction that hiking shoes have. Wearing them on hiking trails will shorten their lifespan, and you may hurt your feet, too.
---
Sizing
Based on many users, these seem to run a little small. Some reviewers could feel their toe touch the edge of the toe box, but after going half size up, the shoes were fitting perfectly. Other purchasers bought a bigger size to ensure their toes wouldn't get smashed while making quick twists and stops. However, if you have wide feet or bunions, you should definitely consider going half size up. Other than that, the upper conformed to the shape while remaining supportive. Also, many users felt comfortable right out of the box without breaking them in.
---
Comfort & Support
The Ryka Vida RZX has all the features to make your feet comfortable. The tongue and collar are well padded, which add comfort plus they have a RE: ZORB high impact heel cushion and an Anatomical Precise-Return™ footbed, enhancing cushioning. The synthetic overlays wrap the shoes and hold your feet, allowing you to dance, walk, jog, or run without pivoting. Again, a few users felt a lack of cushioning under the ball of the foot and didn't like this feeling.
---
Lacing
The Ryka Vida has a lace-up closure, and the eyelets are reinforced with a synthetic layer, adding durability. Some reviewers reported the laces were too short, and another critic said the tongue ripped off after only a few uses. But most customers were happy with the design of the laces.
---
Heel Area
The rear is reinforced with durable synthetic overlays, creating a snug fit at the heel. This supports your foot and stabilizes your ankle as you exercise. Plus, the collar is well padded, which minimizes slippage at the back of the foot. The RE: ZORB provides extra cushioning in the heel, increasing shock absorption and comfort at the heel. If you have plantar fasciitis or you are a heel striker, you'll love these shoes. They have a low top heel design, allowing a better range of movement in the ankle.
---
Weight
The Ryka Vida RZX is very lightweight despite being so well cushioned and padded. One shoe weighs 8oz (240 gr). This makes it easy on the foot while doing high impact training without losing any support.
---
Flexibility
The Ryka Vida RZX has a sturdy midsole and an ultra flex forefoot, which provide excellent support and stability to the foot. This makes them a little stiffer at the arch area and more flexible at the foot's ball. Bear in mind though that If the sole were too flexible, you wouldn't have any support. That being said, if you seek ultra-soft, flexible, and spongy sole, these are not for you. The mesh upper stretches well but doesn't lose its shape as it's held with synthetic overlays. However, many reviewers said the Ryka doesn't need any break-in period. But it took a few days for others to break them in to become comfortable.
---
Toe Box
The Ryka Vida RZX has a nice wide toe box that allows your toes to wiggle and a snug heel that holds your ankle well. If you pick the right size and width, you'll get the perfect fit. Some reviewers found the toe box tight and short but felt comfortable after going a half size bigger. However, a few critics found the toe box too large and had to choose a smaller size. So it really depends on the type of foot you have.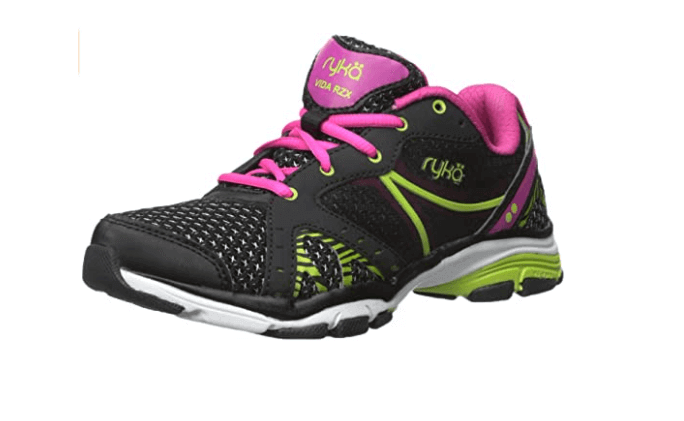 ---
Features
- Rubber sole to provide maximum traction
- RE: ZORB high impact heel cushion for added shock absorption.
- Strategic flex grooves on the outsole to allow twists turns with ease.
- Weight: 8.5 oz (240gr)
- Mesh upper keep feet fresh and dry.
- Lace-up closure for a snug.
- Synthetic overlays for support
- Padded tongue and collar offer a comfortable fit.
- Anatomical Precise-Return™ footbeds protect from impact.
- Smooth textile lining for added comfort
- Removable cushioned insole for support.
---
Pros
Comfortable
Lightweight
Excellent shoes for lateral movements, twists, and turns.
Stabilize the foot
Breathable
Cons
Some users complained about the lack of cushioning in the ball of the foot and the sole stiffness.
A few critics reported that the sole came apart after several weeks of wear.
Other reviewers said the laces were too short.
---
Conclusion
To sum it up, the Ryka Vida RZX is a supportive and comfortable shoe designed for high impact workout. Jazzercise, aerobic, and Zumba dancers, as well as walkers, and joggers, love these shoes because they support lateral movements exceptionally well. You can twist, turn, pivot, jog, walk, and dance without fear of injuring your feet with the Ryka Vida RZX!
Do you wear the Ryka Women's Vida RZX Sneaker? If so, what is your experience with them? I would love to know.
---
Pros
Comfortable
Lightweight
Support lateral movements
Breathable
Stabilize the foot
Cons
Some critics felt a of lack of cushioning in the forefoot
Several users found the sole too stiff
A few buyers said the laces are short
A small group of critics reported the sole came apart after a few wears.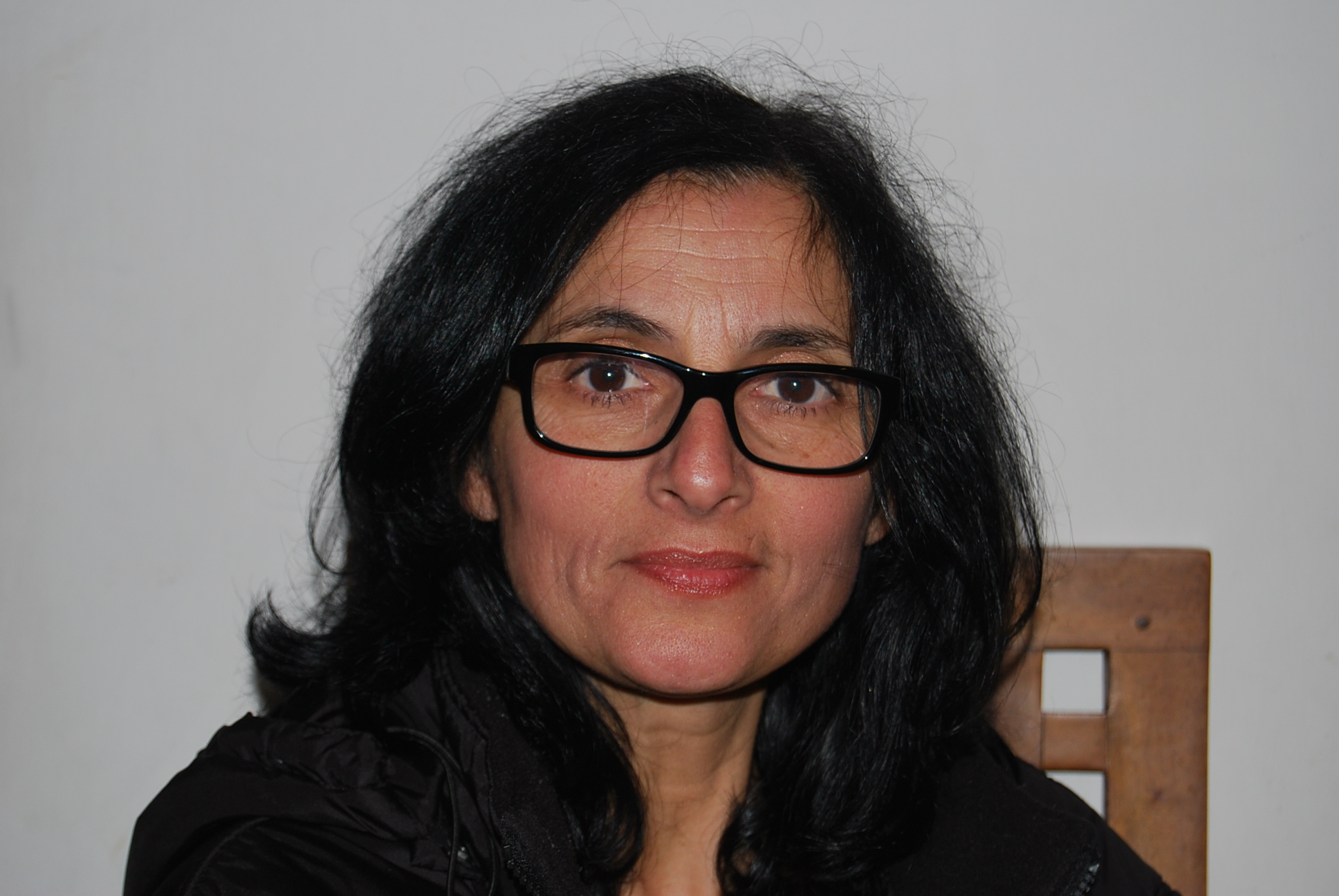 I don't know about you, but I love my feet because they allow me to walk and go wherever I want to go. Without them, I would be lost!  So I always spoil them with a good pair of walking shoes to make sure they are as comfortable as possible. If you take care of your feet, they will take care of you and your health. Well, fitted shoes will protect them and allow you to get more steps without pain!
Read more about me