---
These shoes received a high rating of "4.5 out of 5 stars" from thousands of reviewers, not only on Amazon but also Zappos, not surprising – it's Sketchers! These Women's D'Lites shoes are made for everyday use, walking, and cross-training. They have moderate arch support, so if you have high or neutral arches, you'll find them comfortable. Although most reviewers love the comfort of these shoes, some were a bit disappointed with the memory foam. They come in various colors and go well with casual outfits. If you want to find out if these shoes will meet your expectations, check out the Skechers Women's D'Lites Memory review.
This page contains affiliate links. As an Amazon Associate, I get commissions for qualifying purchases made through links in this post.
---
Skechers Women's D'Lites Memory
Brand: Skechers
Dimension: 13 x 7.1 x 4.6 inches; 1.6 Pounds
Weight: 11 oz (311 gr)
Price: $ ( Check the latest price)
Rating: 7.9 out of 10

GOOD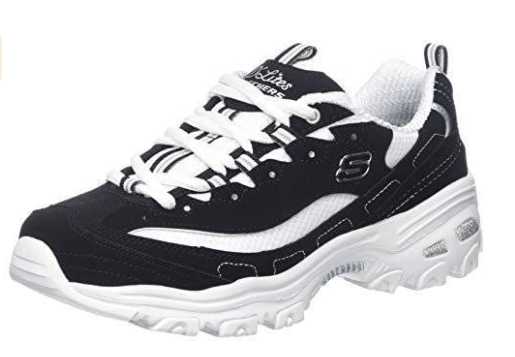 ---
Overview Of Sketchers D'Lites Memory
The Sketchers Women's D'Lites is an attractive walking shoe made of leather with stylish synthetic contrast inlays that give it extra sparkle. Its thick and lightweight midsole absorbs shock from your footstrike, making the shoes extremely comfortable to wear.
The cool thing about the D'Lites is that there is a rubber layer on the rounded toe box that protects your feet from hard hazards you may encounter when walking. The rubber outsole is flexible and provides excellent traction on various grounds.
They are not labeled as anti-slip shoes, so watch out! Overall, great shoes for the winter, fall, and maybe spring as the upper is mostly leather and synthetic, thus not very breathable. Although the lining is well ventilated, if you have sweaty feet, you should opt for the model with mesh panels on the sides, which is more ventilated.
---
Upper Of Sketchers D'Lites
As I said above, the upper is leather with synthetic trims. Some models come in all leather with mesh, others in suede with synthetic. The contrast layers on the shoes make them visible at night, which helps you stay active past sundown. The stitching is well made and doesn't create any discomfort like some other shoes that rub the feet when walking.
Additionally, there is an overlay at the top of the forefront that protects your toes while on the go. The leather overlays on the sides wrap your feet, keeping them well in place and prevent them from rolling inward or outward.
The tongue and ankle are padded, which adds comfort to your instep and heel. Another great feature is the loop on the back of the shoes and tongue. These allow you to slip them on and off easily.
---
Design of D'Lites Memory
Honestly, these shoes won't look very nice on dressy work clothes, but on jeans or shorts, they fit the bill. The D'Lites sneakers have a beautiful look.
They are smartly designed, Skechers drew beautiful lines on the upper using stitching, which add a nice touch to the shoes while making them durable. The logo of Sketchers is sewn on both sides, on the back, and tongue.
It's impossible not to know these are Sketchers shoes, but fortunately, the logo doesn't draw too much attention. They come in many colors, which gives you endless choices for you to match your outfits and accessories.
---
Midsole Of D'Lites Memory
I looked everywhere, and unfortunately, I couldn't find any info on the heel to toe drop. But on the picture, you can see the heel is higher than the ball of the foot, which means they do promote the heel strike.
It looks like it has a heel-toe to drop of 10 to 12 mm. The midsole is thick, and well-cushioned, yet lighweight on the feet.
The midsole absorbs well the impacts, therefore putting less stress on your joints, although some reviewers found the midsole too firm and not flexible enough for their liking.
---
Insole Of D'Lites Memory
The D'Lites has an air-cooled memory foam designed to keep your feet cool all day. The foam helps wick away moisture, yet on hot days, they can get too warm to wear. It might be a little disappointing, but the insert is stitched in; thus, can't be removed.
If you use orthotics, I would suggest you go a half size up or look for other shoes. The D'Lites has moderate arch support, and if you have neutral pronation or high arches, you'll feel comfortable in them.
But if you have severe pronation, you will need to add custom inserts. Some reviewers said the arch support is almost no existent. Others reported the memory foam deflates after a few wears.
---
Outsole & Traction of D'Lites Memory
The D'Lites has a rubber outsole that provides excellent traction on various types of terrains. The outsole is designed with large grooves and doesn't collect dirt and pebbles, making it easy to clean. While the rubber outsole has fantastic slip resistant properties, this doesn't mean that they will grip on oily or greasy surfaces. Just be careful as the D'Lites is not labeled as an anti-slip shoe. Some shoes come with black sole and others with a white sole. Many reviewers love the black one since they don't get dirty as quickly as the white sole.
---
Durability of D'Lites Memory
The D'Lites is bulky and suppose to be durable because its stitching is strong, the midsole is thick and firm, and not to mention, it's all leather. And yet, some reviewers weren't happy! Several critics found the quality of D'Lites poor. Others said that the shoe came apart on the sides after a few weeks of wear. One critic had high hope for the D'Lites after reading so many great reviews, but unfortunately, he was disappointed with the quality.
---
Breathability of D'Lite Memory
If you are looking for a breathable shoe for the summer, seek other shoes. They are not breathable enough to wear on hot days, especially if you have sweaty feet. And the all-leather is even less breathable. Sure, the memory foam wicks away moisture, but it won't aerate your feet. For the winter or fall, they are great. You can also wear them in an air-conditioned place. Some models have a thin layer of mesh on the sides, which helps a bit, but it still not enough to keep your feet cool.
---
Terrain Types
The cushioned midsole and memory foam of the D'Lites absorb shocks of the hard surfaces and take the stress off your joints. Its rubber outsole is grippy and provides excellent traction on floors, but as I mentioned a few times, it's not advertised as an anti-slip shoe.
So if you intend to wear them in an environment where there may be oil, grease, or other liquids on the floor, these won't meet your needs. The D'Lite is a great shoe for walking but they are not enough supportive to walk on uneven terrains, so you should avoid venture on hiking trails.
---
Sizing of D'Lites Memory
They come in many sizes and widths, which gives you ample choices. A vast majority of customers found them to be true to size and width. But some said they run smaller than they used to and had to go a half size up. Others reported they are tighter and shorter on the feet and had to return the shoes. Fortunately, Zappos and Amazon have an excellent return policy, which makes things so much easier.
---
Comfort & Stability of D'Lites Memory
The D'Lites has all the features to be comfortable, a memory foam, a well-cushioned midsole, and a padded upper. While many reviewers loved the comfort of these shoes, some found them uncomfortable. Some critics said the shoe is too stiff and inflexible. Others that the memory foam is not comfortable and hurts the feet.
---
Lacing Design of D'Lites Memory
The D'Lites have a Lace-up closure with flat pieces of fabric. The cool thing? They come with an extra pair of laces of opposite colors so you can change them up. The laces pass through a loop to hold the tongue well in place and prevent it from moving on the side.
There is another loop on top of the tongue to help you slip the shoes on. Reviewers loved the simple design of the laces and found the shoes easy to secure. Yet, some reviewers wished these came with eyelets and not pieces of fabric – they weren't crazy about the lacing design of the D'Lites.
---
Heel of D'Lites Memory
Many walking shoes today have a low heel cut design to allow your ankle flex and moves freely from back to front when walking. The D'Lites shoe sits low, and according to most reviewers, it holds well the ankle and feels comfortable.
Also, the back is padded, which adds comfort and prevents the heel from chaffing. But some critics felt uncomfortable at the heel area. One review said she could feel her heel move up and down, which created discomfort. Others reported the heel is not high enough to support the back of their ankle.
---
Weight of D'Lites Memory 
While the D'Lites is a relatively lightweight shoe, the bigger sizes are slightly heavier. For instance, the 7.5, width B – Medium weighs 11 oz (311 gr) while the 11, width B – Medium weighs 13.4 oz (379gr), and this is based on a single shoe.
Usually, athletic walking shoes for workout weigh under "300 gr" and make you feel like you don't have shoes on. So you can wear the D'Lites for brisk walking but know that there are much lighter shoes out there for this type of workout. For everyday use and gym, they are excellent!
---
Flexibility of D'Lite Memory
Keep in mind that these are leather shoes with synthetic layers on the sides, which support the feet. Also, the front of the toe box is quite robust, so it might take a little time for them to give. You'll need to walk around a few hours to break them in, although many critics felt comfortable right away and didn't need to break them in. One customer found this last model of the D'Lites not as soft as the previous one and mentioned that it has a cardboardy feel.
---
Toe Box of D'Lites Memory
The D'Lites has a rounded toe box with reinforcement at the bumper for more protection. The toe box is spacious, and many reviewers loved how they could wiggle their toes in the shoes. Yet some commentators found the toe box on this version narrower than it used to.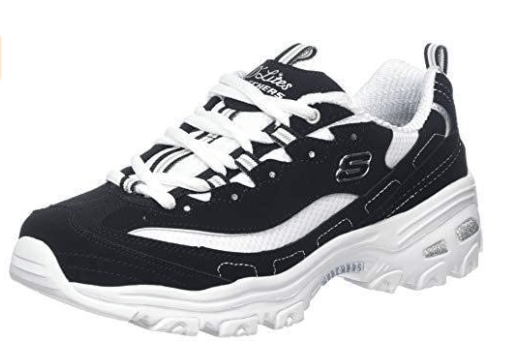 ---
---
Key features of D'Lites Memory
Rubber Outsole _ Awesome Traction

Low Heel Cut _ Allow ankle to move naturally.

Leather/Synthetic Upper

Soft Lining

Air Cooled Memory Foam _ wick away moisture

Thick midsole _ absorb impacts

Lace-up Closure with fabric

Low Price Tag

Stylish look.
---
Pros
Comfortable
Affordable
Supportive
Absorb impacts
Provide great traction
Cons
Not enough breathable to wear on hot days
Bulky
The insert is not removable
---
Conclusion
The D'Lites shoe is a popular shoe because it's comfortable, stylish, and affordable. You can use them for day-to-day activities, the gym, and for traveling as they are well cushioned and offer maximum comfort. So far, they received a high rating on Zappos and Amazon, which means a lot. But since we all have different feet and taste, of course, not everyone will love them. If you seek a cute and sporty shoe to wear with casual outfits and for everyday use, or exercising, these are the right pair for you!
Do you wear Sketchers D'Lite Memory? If so, what are your thoughts about it?
Skechers Women's D'Lites Memory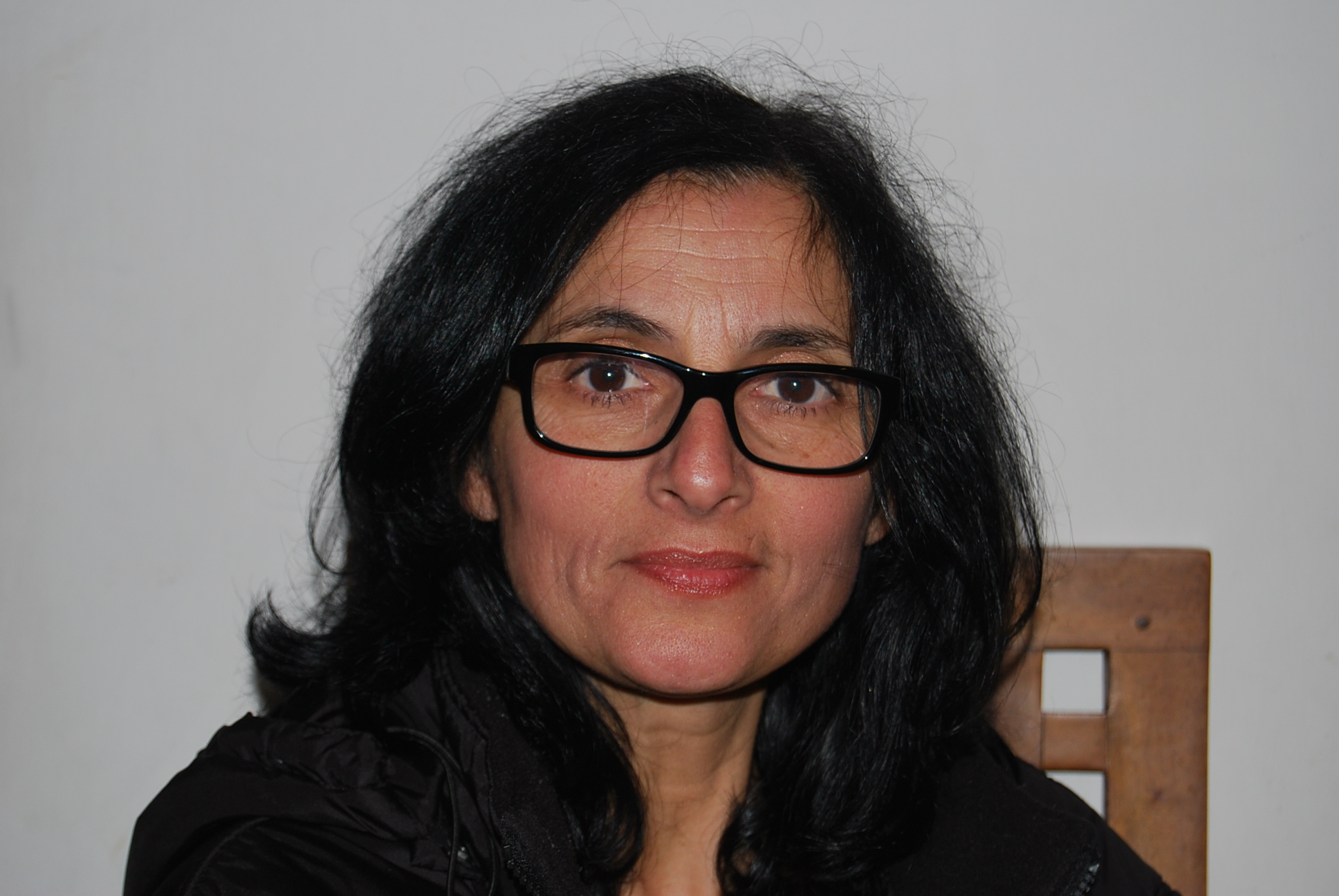 I don't know about you, but I love my feet because they allow me to walk and go wherever I want to go. Without them, I would be lost!  So I always spoil them with a good pair of walking shoes to make sure they are as comfortable as possible. If you take care of your feet, they will take care of you and your health. Well, fitted shoes will protect them and allow you to get more steps without pain!
Read more about me