The Vionic is an attractive walking shoe designed for women's feet. These colorful sneakers are lightweight, breathable, and comfortable, making them ideal for walking and day to day activities.
The good thing about these sneakers is that they offer excellent features to support the foot without looking like orthopedic shoes. When it comes to quality and comfort, Vionic never disappoints.
Even though these received a nice rating on Amazon, it seems that this time, Vionic didn't live up to some reviewers' expectations.
Has the quality gone down? What has changed? In this review of the Vionic Women's Brisk Miles Sneaker, you'll find out if they are truly worth their high tag price.
---
Vionic Women's, Brisk Miles
Brand: Vionic
Dimension: 10 x 15 x 6 inches; 2 Pounds
Weight: 7 oz (198gr)
Price: $$ ( Check the latest price)
Rating: 8.1 out of 10 GOOD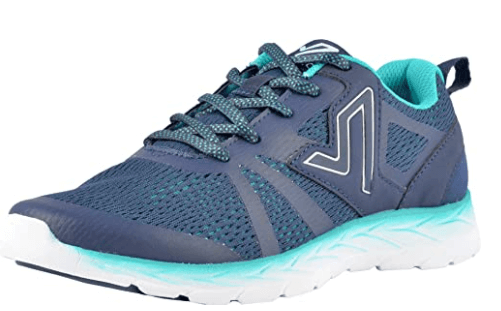 Overview
The Vionic is a comfortable and lightweight walking shoe with a feminine silhouette. These are ideal for walking around towns, treadmills, or everyday use. The Vionic Brisk Miles has a supportive midfoot cage that stabilizes your foot when walking without restricting movement.
Additionally, they feature a podiatrist-designed Foot Motion Technology (FMT) orthotic insole that promotes the natural foot alignment. The Vionic Brisk Miles can be beneficial for people who have mid overpronation, light supination, shin splints, knee pain, or other feet condition.
The midsole is made of (EVA) ethylene-vinyl acetate, a foam material that protects your feet from shock when walking. All in all, great shoes, but they have some drawbacks.
---
Who Are the Vionic Women's, Brisk Miles For?
The Vionic Brisk Miles is for any women looking for lightweight and comfortable sneakers for walking, traveling, or everyday use. They offer good support for the feet without being bulky.
However, It's worth mentioning that the Vinionic Brisk Miles is more designed to give adequate support for people who slightly pronate or supinate.
But they don't correct the foot's pronation. Those who have severe overpronation or supination will need to use custom orthotics or look for more supportive shoes. If this is what you are after, these will fit the bill.
---
Upper
The Vionic Miles has a dual-layer mesh upper with printed synthetic overlays on the sides that maintain the mesh upper's structure and hold your foot in place when walking. There is also a synthetic overlay that encloses the heel and stabilizes the ankle while walking.
The interior has a soft lining that enhances comfort, and the mesh is breathable, keeping your feet fresh during your walks. They provide excellent ventilation flow in the summer, but this could be a minus in cold conditions. Don't expect them to keep your feet warm in the winter.
The mesh is not waterproof, and if you walk in the wet grass or rain, your feet will get soaked. The good thing is that they dry very fast and are easy to clean.
A few reviewers who weren't very happy said their toes wore through the mesh after several weeks of use. Another user reported she could see her socks' color through the shoes, which she didn't like because it would prevent her from wearing funky color socks.
---
Midsole
The midsole on the Vionic Brisk Miles is made of (EVA) ethylene-vinyl acetate, which has been proven to be an excellent shock absorption material. This EVA foam midsole protects the foot against impact from hard surfaces, allowing you to walk on various terrains without putting stress on your joints.
It also has the 1st Ray technology, a soft foam placed at the forefoot to increase flexibility under the ball of the foot. If your forefoot is sensitive and painful, this added feature will be ideal for you.
Some consumers said the sole feels very thin, which gave them the sensation of walking barefoot. On the other hand, people with plantar fasciitis felt an extreme comfort in their heel.
---
Insole
A few critics complained that the arch is not high enough and sits further toward the foot's back. They wished the Vionic Brisk Miles would offer more support to their feet. Some had to use different inserts in them but were unhappy because the whole point was to find a supportive shoe without needing to buy other inserts. However, the arch support on the Vionic Brisk Miles impressed a vast majority of the buyers because it alleviated their foot pain once they had the shoe on.
---
Outsole & Traction
The Vionic Miles' outsole is made of rubber with some reinforcement tread on the high wear areas to enhance traction. Their flex grooves allow your forefoot to move naturally when you walk. The lugs on the outsole are relatively shallow, thus provide a better grip on smooth terrains.
Because the lugs are closely spaced, dirt and pebbles can get trapped between the lugs. These are not advertised as anti-slip shoes, so it would be more prudent to avoid walking on slippery floors. While rubber is sturdy and slip-resistant, several users reported that the tread on the bottom wears out quicker than they expected on the Vionic Brisk Miles.
---
Design
The Vionic Brisk Miles has a sporty look and doesn't draw too much attention. They can be worn with any casual outfit, and come in beautiful colors. Most buyers loved the Vionic Brisk Smiles' look but wished they come in more color choices.
The supportive midfoot cage adds a nice touch to shoes and also supports lateral movements. The Vionic name brand is placed on the tongue and at the rear. And the Vionic logo is on each side of the shoe. These sneakers are attractive and will give a stylish and feminine silhouette to any feet shape.
---
Durability
The Vionic has double layer mesh upper with TPU midfoot cage and EVA midsole, which increase support and durability. However, these are walking shoes for everyday use, and with good care, they should last between 4 to 6 months, 300 to 500 miles, if you wear them 4 to 6 times a week.
Their lifespan is relatively short compared to more rugged walking shoes. The sole is thin on the Vionic, so chances are they will wear out faster. Anyway, there were some complaints about the outsole falling apart after a few weeks of wear.
A few consumers said the mesh ripped after walking a few times with them. But the majority didn't have any quality issues and were happy with the overall shoe.
---
Breathability
The Vionic Brisk Miles has a high level of breathability. The soft lining inside and the mesh fabric allow excellent airflow, which is great in the summer, you can rest assured your feet will be well aerated. But when it comes to winter, you will feel the cold pass through the shoes. If you plan on wearing them in cold conditions, you might consider wearing thick socks with them. And if you do so, you will undoubtedly need to get a bigger size.
---
Terrains Types
According to some reviewers, the Vioninc Brisk Miles relieve pain even after walking or standing on concrete for a long time. A hairdresser who works retail on concrete said she didn't feel pain in her legs and feet anymore after the end of the day.
Their EVA midsole and podiatrist-designed insert provide excellent cushioning, especially under the heel, which helps ease your feet. As I said earlier, the lugs are shallow and not well spaced out.
Thus they are not for walking on hiking trails. But they will do a good job on pavements, tile floors, wood, asphalt, grass, and even on the sand as they are lightweight and easy to clean.
---
Sizing
The Vionic Brisk Miles comes in women's half and full sizes, making it easier for you to choose the right fit. Note that D wide width is only available in US sizes 6 to 11, and the B-Medium width in all sizes. Based on most reviews, the Vionic Brisk Miles fit true to size in length but run narrow. Users with narrow feet stated that the shoes fit perfectly, while those with wide feet had to pick a wider size. If you have wide feet, or bunions or use custom orthotics, it would be best to get a bigger size.
---
Stability, Comfort, Support
The Vionic Brisk Miles is comfortable and offers decent support for lightweight shoes like this. But according to many reviewers, they lack arch support and cushion, especially under the forefoot, compared to other Vioninc shoes.
The midsole is thinner, and the arch support is less pronounced on this model. Although the shoes' back is held with synthetic overlays, the heel is not reinforced from the inside. Some users reported that the heel folded up as they put their foot in the shoe.
This Vionic Brisk Miles supports light overpronation (foot roll inward) or supination (foot roll outward). But they won't support severe foot pronation like control motion shoes do – even though they feature a podiatrist-designed cushioned footbed.
---
Lacing
These Vionic shoes come with a traditional lace-up closure. The top of the laces is attached to the TPU midfoot cage. The thing here is that when you loosen up the laces, the TPU midfoot cage (synthetic overlays on the side that run from the midfoot to the laces) loosen up too, which automatically reduces lateral support.
This means your foot is less supported unless you tighten the laces well. Another problem is that many critics mentioned that the laces don't stay tied when walking. So if you buy these sneakers, you may consider replacing the laces.
However, the tongue is lightly padded, and it's attached to the end of the shoes. And the laces pass through a loop on the tongue to keep it in place.
---
Heel Area
Many users swear by The Vionic Brisk Miles because they made their plantar fasciitis feel much better from the moment they put them on. Some wearers loved how the heel cup kept their heel from sliding around and how it held their ankle aligned.
Unfortunately, it wasn't the case for everyone. A few users felt a lack of cushion in the heel and felt like walking on concrete. The rear of the shoe is well padded and comes low on the ankle.
This allows a better range of movement at the ankle and prevents the shoes from slipping off the feet. But again, some will prefer a higher heel cut design while others will feel comfortable with it.
---
Weight
I've found some negative things about these shoes, but about lightness, nothing. These are super lightweight. One shoe weighs 7oz (198 gr), making them perfect for daily walks and treadmills. You will barely feel you have shoes on.
---
Flexibility
The upper is mesh and flexible; many purchasers didn't need to break them in; they said the shoes fit right out of the box. Multiple buyers complained about the sole and insert; most stated that both the sole and insert are stiff. Some really liked this feeling, while others needed more cushioning and flexibility for their feet. On the good side, the forefoot on the outsole is flexible and gives excellent flexion in the ball of the foot.
---
Toe Box
The toe box on this Vionic model is more on the narrow side. People with narrow feet didn't experience any fit issue, but those with standard and wide feet found them too tight. Some critics also said the fabric on the toe box is flimsy and comes apart after a week of use.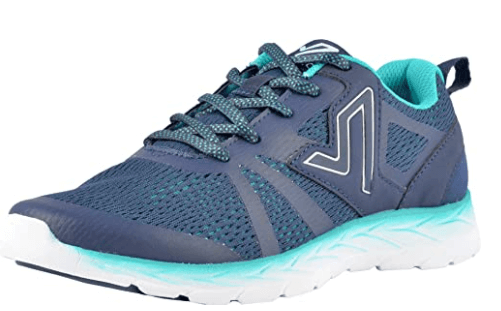 ---
Features
- Breathable mesh uppers.
- Supportive midfoot cage.
- Synthetic overlays on the sides and at the heel.
- Cushioned tongue and collar.
- Traditional lace-up closure.
- Podiatrist-designed Advanced Motion System (AMS) technology.
- Removable cushioned inserts.
- Flexible rubber outsole.
- Weight: 7 oz (198gr)
---
Pros
Comfortable

Breathable

Lightweight

Office friendly

Great for everyday walks and treadmills.
Cons
The laces keep coming untied.

The arch support is not in the right place.

This Vionic model has less arch support and less cushion than other Vionic shoes.

The toe box runs narrow.
---
Conclusion
To sum it up, the Vionic is a cute sneaker and is excellent for day to day activities. Despite complaints about their lack of support and cushion, the Vionic Brisk Miles was still recommended by reviewers because of its capacity to relieve heel pain. They accommodate various foot shapes while providing decent support and stability thanks to Its TPU midfoot cage and Podiatrist-designed insole. I really like the Vionic Brisk Miles because they are great for all sorts of things, including walking. But for long brisk walking distances, I would rather buy running shoes because my feet need lots of flexibility and extra cushioning.
Have you tried the Vionic Brisk Miles shoes? If so, what was your experience with them? I would love to know.
---
More shoe's reviews:
Vionic Women's, Brisk Miles Sneaker
$$
Pros
Comfortable
Breathable
Lightweight
Excellent for day to day activities and treadmills
Stilysh
Cons
Lack of support and cushion in the forefoot
Run narrow
The laces don't stay tied.
The arch support sits toward the foot's back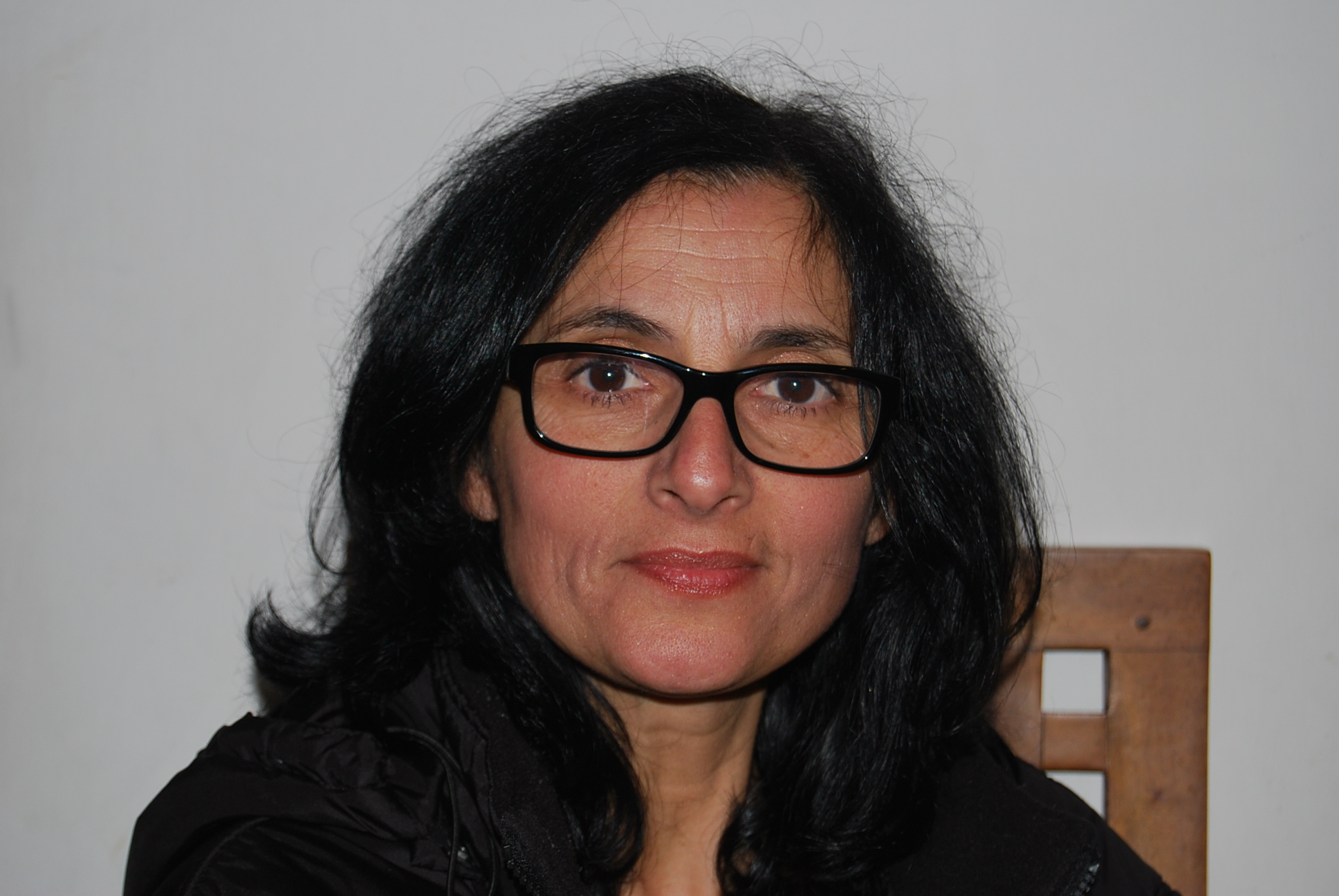 I don't know about you, but I love my feet because they allow me to walk and go wherever I want to go. Without them, I would be lost!  So I always spoil them with a good pair of walking shoes to make sure they are as comfortable as possible. If you take care of your feet, they will take care of you and your health. Well, fitted shoes will protect them and allow you to get more steps without pain!
Read more about me