The New Balance men's slip-resistant 626v2 is a supportive shoe that provides excellent traction on wet and slippery. These are advertised as work shoes, but they fit the bill for cross-training, walking, and everyday use. If you walk a lot on concrete or slippery floors, then these are the shoes for you. Let's face it, they are not very attractive, but your feet care only about one thing, comfort! They have lots of great features, but like any other product, they have some drawbacks. In this review, you'll find out everything you need to help you make the best decision.
This page contains affiliate links. As an Amazon Associate, I get commissions if you purchase through the links in this post.
New Balance Men's Slip-Resistant 626 V2
Brand: New Balance
Dimension: 10 x 15 x 6 inches
Weight: 338 grams (12.3 oz.)
Arch Support: Neutral, overpronation
Rating: 8.5 out of 10 Great!
---
Overview
The NB MID626K2 is a leather work training shoe that provides an excellent grip on slippery floors thanks to its anti-slip rubber outsole. In addition to being slip-resistant, they are also non-marking, which means, you can walk on delicate floors like wood or deck boats without leaving any mark. These shoes are suitable for cross-training, day to day activities, and jobs that require a lot of walking on hard surfaces. They are well balanced and cushioned, making them super comfortable to wear all day. There are a few drawbacks, though. Because they are all leather, it can cause the feet to sweat in the summer, especially after a long workday. Also, they are not really stylish. And lastly, they come only in black and grey, which give a limited choice of colors. Other than that, they are fantastic!
---
Upper
The leather upper on the 626v2 holds the feet secure while walking. and keeps them warm in cold conditions. They are water-resistant and prevent water from penetrating. It's worth noting that they are not waterproof. So if you happen to soak them completely, water may pass through the shoes. The interior is seamless; this means no chafing against the skin and more comfort.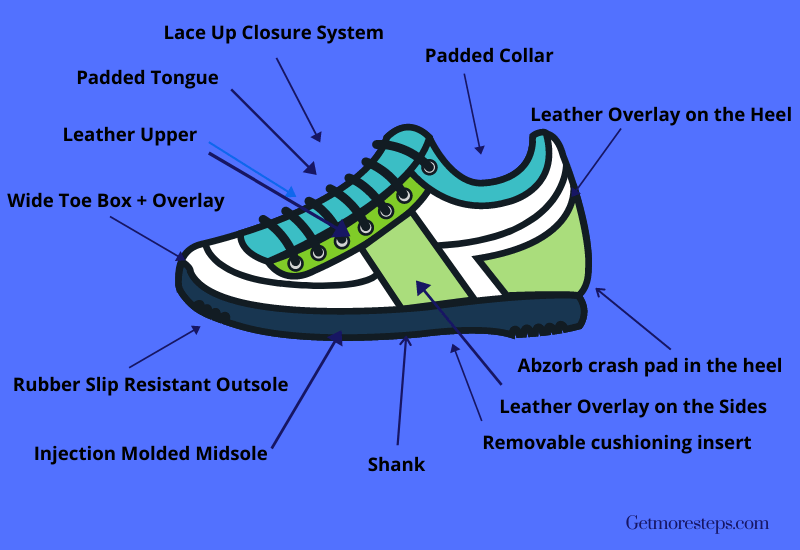 ---
Midsole
The NB 626V2 features an ABZORB Crash Pad that runs through the injection-molded midsole. It's an exclusive technology used in running and walking shoes to give the insole a better rebound capacity and more cushioning responsiveness. This midsole reduces shocks on the joints and keeps you comfortable throughout the day. There is a shank placed in the midfoot to support and stabilize your foot when you walk. On the plus side, it relieves tension on your feet and maintains the shape of the shoes. On the downside, it increases the bending stiffness of the shoes, making them less flexible. Some reviewers felt like they are walking on concrete when wearing the shoes. The majority of buyers reported that they maintain an excellent level of support, even after long hours of walking on hard floors.
---
Insole
Although it's not indicated in the description, the insole is removable. You can take it off and replace it with orthotics if needed. According to some users, the insert is thin and doesn't have much arch support. Even people who found the shoes comfortable said they use their own insoles.
---
Outsole & Traction
The majority of reviewers said that the traction of these shoes is fantastic and felt safe when walking on slippery floors. The only thing that bothered some users was the small debris that was getting stuck between the grooves. Many wearers that work in restaurants and kitchens swear by them.
---
Style
I can't deny that this shoe is unappealing, and I am not the only one who thinks that way, though. But that doesn't stop people from buying them. Quite the contrary, because they provide such great comfort and traction that it makes this detail secondary. Nothing more to say about the design except that they are available in black and grey and feature a big N on the sides.
---
Durability
These shoes are all leather and well made, and according to most reviewers, they hold up unexpectedly well. Yet, there have been several complaints about durability. Some said that the shoes fell apart after several months of use at the toe area. This is quite surprising, especially from a big brand such as NB! These are meant to last more than just a few months since they are constructed solidly.
---
Breathability
No doubt about it, they are comfortable, flexible, and anti-slip, but unfortunately not very breathable. These are all leather and have a few ventilation holes on the upper front of the shoes to let the air flow. But, it's not enough ventilated to keep your feet cool in hot temperatures. So, they may become too warm in the summer. If you have sweaty feet, these might not be the right shoes for you unless you intend to wear them in an air-conditioned area. But hey, they are great for fall, spring and winter.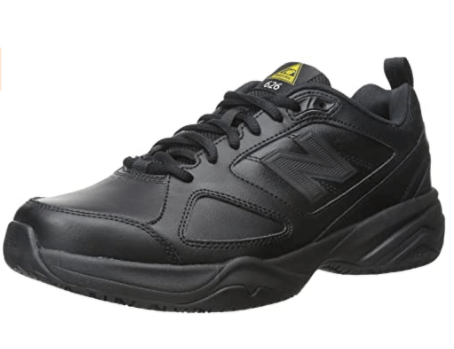 ---
Terrain Type
These shoes are specially designed for walking on wet and slippery environments and hard floors such as concrete and asphalt. They are grippy and give a feeling of safety when walking. Some reviewers stated that the 626v2 performs even better than Crews and Stretchers' work shoes. And it's easy to believe because they have received a high rating on their traction capacity.
---
Sizing
They are available in various widths, and the size is consistent. According to the majority of customers, they fit right out of the box. However, as we all have different feet, not everyone can be completely happy. Some complained that they run small and had to order a bigger size. The chart is easy to understand, and if you pick the right size, you can't go wrong. Very narrow (2A ), narrow (B). Standard (D). Wide (2E), X-wide ( 4E) and XX-Wide (6E). The E stands for the width of the shoes. Let's say you wear 12.5 and have wide feet; thus, you should choose 12.5 2E, and if you have extra wide feet, then go for the 12.5 4E, etc. Make sure to measure your foot from heel to toe as well as the width.
---
Comfort & Stability
When it comes to comfort, these are unbeatable thanks to their Injection-molded EVA midsole and ABZORB® cushioning foam construction. Plus, they have a shank that maintains the foot in a natural position and prevents it from tiring. If you need to stand or walk long hours, you will love these shoes as they provide great support. Cookers, servers, nurses, hairdressers, teachers feel so comfortable in them. Apart from several users that found the sole too stiff, most buyers felt exceptionally comfortable and secured in the shoes.
---
Lacing
As advertised on Amazon, these are lace-up shoes. Nothing special to say about this. They are neither too long nor short and close easily. There are seven eyelets on each side, which gives you more options to secure the shoes. The laces pass through the two loops attached to the tongue to keep the tongue from moving.
---
Heel Area
The 626 v2 shoes have a low Achille tendon protector and are well padded, preventing chafing at the rear. They are very comfortable on the ankle and keep the feet stable when walking. The heel to toe drop on the 626v2 is 10mm. This means your heel sits higher than the ball of the foot. The Abzorb Crash pad placed in the rear cushions the heel and relieves tension on the Achilles tendon. If you have plantar fasciitis, heel spurs, tight calves, these will makes a big difference. A few reviewers complained about the padding in the heel coming apart after several uses. One reviewer said the heel is too snug for his liking.
---
Weight
Even though they are all leather, they feel lightweight on the feet—one shoe 338 grams (12.3 oz.). I wouldn't recommend them for running because they are not designed for this, but they are definitely suitable for walking. Some users reported that they are not heavy and neither light. Others found them lightweight enough to walk comfortably long distances.
---
Flexibility
The 626v2 has stability features, making them a little more rigid than neutral shoes. The leather overlays on the sides and the reinforced heel cup support the foot, but it also adds some stiffness to the shoes. Not to mention that the sole is thick. These are not the most flexible shoes out there, but they are very supportive. Based on a fair amount of customers, they break in easily. Some said that it took them a few days to break them in. Several users commented they don't need any break-in period.
---
Toe Box
The toe box is more pointed and slightly narrower than the older model. You might need to choose a wider width if you have wide feet. Several users felt cramped in the toe area and stated that it is too pointed. So you may take this into account. The rubber outsole goes up to the toe box, and there is a piece of leather overlays, creating a sort of bumper, which adds protection to the forefoot. If you happen to knock your foot against a hard object, chances are you'll hardly feel it.
---
---
Key Features

- Slip-resistant outsole, keep you save on slippery floors
- Non-marking outsole, don't leave marks on delicate floors
- Abzorb crash pad in the heel, cushion your heel and protect from shocks
- Imeva midsole, absorb impact and reduce stress on the joints.
- All leather, embrass the shape of the foot and gives a nice snug
- Shank unser the arch, stabilitze your foot and keep it stable.
- Weight: 338 grams (12.3 oz.)
- Arch Support: Neutral, Over Pronation
- Heel to toe drop: 10mm
- Activities: Work, walking, cross training, day day activities.

---
Pros
Excellent traction on slippery floors
Comfortable
Provide excellent support
Well constructed
Versatile
Cons
A few customers said the sole is stiff
Some reviewers reported that they deteriorate quickly.
Several reviewers felt too tight in the forefoot
---
My Final Thoughts
All in all, these are supportive, non-slip shoes, and if you are on your feet for long hours, they will fit the bill. The good thing about them is that they are versatile, you can go straight to the gym after work without having to change shoes. The sole is solid and a little more rigid than regular shoes, which is why they provide such good support. Just keep in mind that they run a little tight in the toe box. Otherwise, great shoes and you rely on them to keep you safe on wet and slippery floors.
Do you wear the NB 626v2 shoe? If so, what are your thoughts about them?
---
New Balance Men's Slip-Resistant 626 V2
$$
Pros
Excellent traction on slippery floors
Comfortable
Support the foot
Versatile
Well constructed
Cons
A few customers said the sole is stiff
Some reviewers reported that they deteriorate quickly.
Several reviewers felt too tight in the forefoot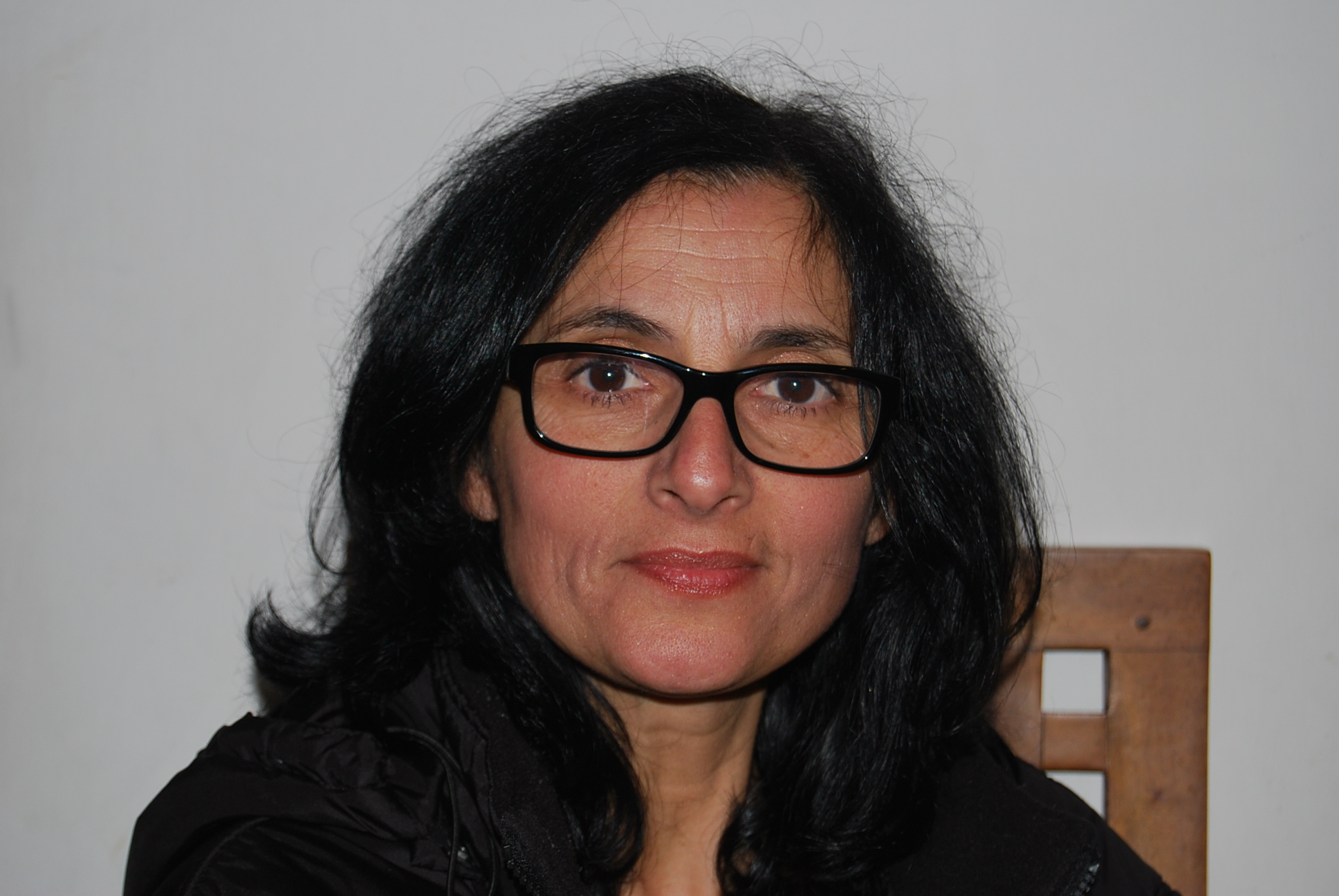 I don't know about you, but I love my feet because they allow me to walk and go wherever I want to go. Without them, I would be lost!  So I always spoil them with a good pair of walking shoes to make sure they are as comfortable as possible. If you take care of your feet, they will take care of you and your health. Well, fitted shoes will protect them and allow you to get more steps without pain!
Read more about me